Clock In Machine
TP100 and TP200 Clock In Machine for all your Attendance Recording Needs
The unique TP100 and TP200 clock in machine have been designed to be truly "set and forget".They will accurately record employees' clocking in\out times on a weekly or monthly time card.They are fully automatic for all functions and time adjustments. Simply insert your card and a clear, accurate clocking is printed. These time recorders are the most high-tech and robust on the market, setting a new standard for the industry.
Tip:
Using "In" and "Out" racks either side of the clock is an excellent way of doing a fire roll call in an emergency, by unhooking the "In" rack
from the wall.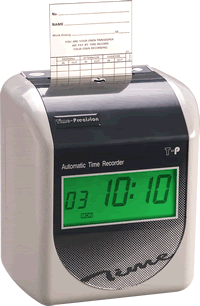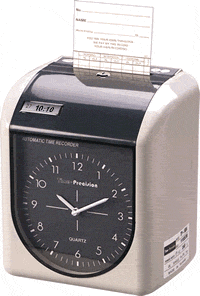 Sample Cards (Click to enlarge):
Features:
Simply plug in and start clocking straight from the box.
Easy to read, analog clock face with L.C.D time and date display on top of the unit. (Analogue)
Large, clear L.C.D time and date display. (Digital)
Tough ABS construction for robust use.
Anti-tamper, lockable case.
High quality, maintenance free, long life print head.
6 clockings per day per employee.
Accepts 17 popular styles of time card.
Automatic IN / OUT printing and spacing to stop over clocking(Fool proof).
Automatic hour adjustment for Summer and Winter time change.
Automatic month-end and leap year adjustment.
Built-in battery backup for time, date and memory auto-reset after power failure.
Selectable payroll cut-off date for weekly, monthly, semi-monthly and bi-weekly.
Optional full use battery backup, for clocking when power is off.
Selectable print formats: Date and time, day and time (12 or 24 hour format)
Standard 60 min or 1/100 (decimal) and 1/10 hour time printing.
Wall or table top mounting.
Extra Features on TP200 clock in machine:
Internal melody chime.
Output to external sounders for start, stop and break times.
Technical specifications:
Quartz time keeping for +/- 15 seconds per month
Power source: AC 110/220V 50/60 hz
Dimensions: (W x H x D) 190 x 210 x 130mm
Weight: 3kg
Power consumption: 4W (32W in peak operation).
Printing method: Shuttle dot matrix printer.
Operating conditions: Temperature 0 - 40 Degrees Celsius Humidity 40% - 90%
Click here to download Clock in Machine Brochure