VisionTime VTweb Staff Time Management
VisionTime 247 - The Intranet Linked Time and Attendance System.
A truely modern solution to fit the modern workplace

VisionTime 247 is a web oriented system - and what makes VT247 different is that it brings a "workflow" approach to working time. So, for instance, Staff can make electronic requests for say a holiday or make an electonic update to a time record or can report a sickness - all at Touch Screens or P.C.s. Then Supervisors can sign off these requests or updates electonically - again at Touch Screens or PCs.
This means that more Senior Management now have a "real time" access for tracking how time is worked in your organisation.
Employees can clock in and out over a range of Time Terminals, Touch Screens while those working away from site can clock by Mobile Devices such as PDAs and Mobile Phones.
For those employess using Time Terminals, the VT247 supports a variety of ways to clock in and out :-
VT - Duty Manager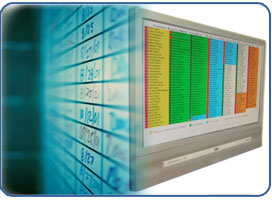 Biometric - Clocking can be by the Terminal "reading" a hand or finger
Cards - The Time Terminals can be activated either by magnetic stripe or by proximity cards which are non contact and thuse less wearing
P.I.N. - The employee just enters a code. This saves buying cards and employees can't say they have lost their card.
It is also possible to utilse a card and/or PIN.
VT 247 will cater for thousands of employee or just small groups too.
The system works over your own company's network - using an intranet (or where neccessary the internet).
So say if there are several locations where your staff are working, even in different towns, then each location can easliy be linked back to a central server.
As the system is accessible over web browsers it means that -

The locations and the numbers of employees accessing the system become irrelevant

While accessibility is local and instantaneous in "real time", there is no need for local software - just the browser -say MS Explorer or Firefox

It's absolutely ideal for Branch Networks, Chains of Stores, Recruitment Agencies, Forecourts, Home/Remote Workers etc.
VT - Health & Safety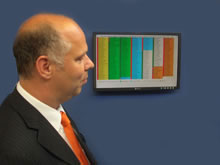 See Staff Attendance in a flash!