Biometric Clocking System
Timeclox Biometric, Clocking System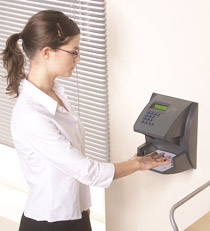 The "HandSwipe" clocking system positively identifies each employee when clocking, by scanning the unique size and shape of their hand……meaning no more false clockings or paying for time that employees are not present, saving your company thousands of pounds each and every year, whilst helping comply with heath and safety in fire situations by producing immediate and accurate fire roll call reports !
Once clocked in, this valuable clocking information is sent through to the PC software for automatic calculation, editing and analysis. Available at anytime, even from remote sites, this data allows you to stay in complete control of your employees' time and attendance at all times.
The tried and tested "hand reading" technology is not affected by the employees' hand being dirty, greasy, wet etc, all of which render fingerprint systems useless, or at best unreliable.
The "HandSwipe" system is unique, as it scans the hand from above, meaning the employees' hand has no contact with the actual reader, providing unsurpassed reliability whilst being extremely low maintenance.
In addition to the massive savings made by eliminating false employee clockings, there are large time and cost savings to be made in administration as the PC software produces reports previously prepared manually. These include: clocking times, hours worked, overtime, lateness, absence, holidays, sickness, fire roll call and much more !
Hardware

Scans employee's hand from above meaning dirt and dust on the hand will not cause mis-reads.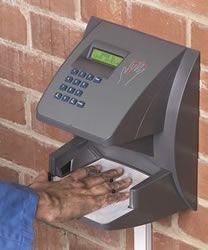 50, 100 or 500 employee capacity.

Robust ABS Construction.

PIN code and Hand recognition to prevent attendance fraud.

Large clear display for confirmation of employee clockings.

Quick and easy setup of new starters.

Wall or Desk mounting.

Multiple connection types: Serial, USB, TCP/IP, Modem, Radio and WIFI (Wireless networking).

Wall mounted fire roll call printer maybe linked to the "HandSwipe" terminal to produce an instant printout of employees currently on site.

Will operate sounders for start, stop and break times.
Software

Calculates all types of working hours and overtime, removing all manual calculations,saving time and money.

Standard or flexible working times for each day of the week may be setup per employee or groups,with easy to follow setup wizards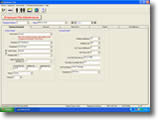 Automatic highlighting of anomalies - lateness, absence,missed clockings, exceeded breaks etc.

Allows lunch and break clockings or automatic deductions.

On screen editing of clocking data and automatic re-calculation of hours. (Audit log to show if clockings have been added or altered.

Advanced leave recording for holidays, sickness, training etc, with the ability to create customised leave types.

Extremely comprehensive reporting suite for detailed or summary reports for employees and departments,with working Time Directive reports.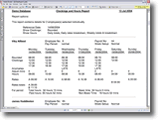 Extremely easy to setup and use Windows software for standalone and network systems. (Compatible with all Windows operating systems).

Export facility to Microsoft Excel and CSV output files to payroll link packages.

Built-in backup and restore facility for the database with an archive database for leavers.

Built-in personnel records including holidays taken and remaining, contact information, payroll, qualifications, disciplinary, trainimng and more!