VisionTime Health and Safety
VT – Health & Safety
Knowing Who's In/Out In An Emergency
VT Health & Safety is a module that works with VisionTime with its primary purpose being, to allow those responsible for Health & Safety to know who is in or out in "realtime" - in the event of an emergency.
"Real-Time" Clocking Terminals placed at strategic locations make critical information instantly available at Wall Screens and also in the form of roll call reports. That data is then available at critical locations for use for emergency or emergency drill purposes.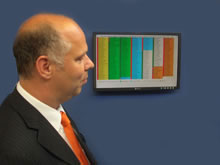 The employee can, on entering the building, activate the VT Health & Safety
Holding a Proximity Card to the Terminal
Swiping with a Magnetic Stripe Card
Entering a PIN No.
Signing electronically
Using Hand or Finger at biometric readers
At a Door Access System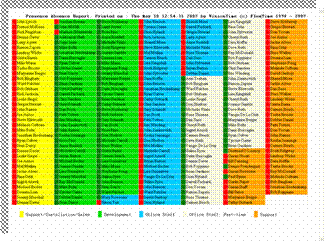 Staff names are shown on a wall mounted screen. If they are in, then the coloured box beside their name displays green – if they are out it displays red . Groups are shown in distinct colours too, for ready identification.
Want more details …… Call +353 1 260 9680