InTime Lite Time & Attendance Solution
InTime PC Linked Card or Fob Time & Attendance Solution
The InTime Lite system is a low cost yet powerfull time & attendance solution, designed to elimate the manual work from the payroll process, while allowing instant access to your employees' time and attendance information. This ensures complete workplace control savings both in time and money and helping to comply with health and safety rules by showing employees currently on-site.
Employees clock in and out by simply waving their card or key fob in front of the clocking terminal. Being non-contact, these have proven to be easier and much more reliable than swipe cards. They are not affected by dust, dirt or moisture, operating even in the harshest of environments. If employees leave, they can be re-used.
The time management software collects data from the clocking terminals and calulates the employees' hours and overtime according to your defined working patterns. Even if employees miss clockings for whatever reason, this data can be easily edited on-screen and automatically re-calculated. In addition holidays, sickness, training and customised absence codes can be recorded on an advanced, on screen, graphical leave planner, ideal for ensuring you don't have too many staff away at the same time!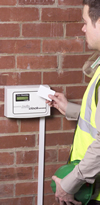 Some Benefits

Calculates employees' hours and overtime according to your working patterns, removing manual work from the payroll process.

On-screen viewing and editing of clocking times and hours worked.

Automatic highlighting of lateness, unauthorised absence and other anomalies.

Graphical booking and recording of holidays, sickness and user customised leave types.

Comprehensive reporting facilities with outputs to payroll packages such as Sage and spreadsheets such as Excel.
InTime Lite boxed time & attendance solution package -

Employees clock using non-contact proximity cards or key fobs, which will never wear out or mis-read like swipe cards.
Multiple connection options to the software include: Serial, TCP/IP (direct network connection), USB, Modem and WiFi (wireless networking).
Audible and visual display of clocking status shows: name, clocking number and in or out.


Fixed or flexible working times may be set up with easy to follow setup wizards.
Easily edited on screen data for missed clockings, lateness, holidays etc.
Output to a bell or siren etc to indicate start, stop and break times.
Full report suite including roll call report and payroll interface , including advanced leave and holiday recording.