VisionTime Duty Manager
VT– Duty Manager
Allocating and Managing Employee Duties
Allocating duties to employees and then managing them is not always an easy task to perform
Indeed it is often a major undertaking, done under quite some pressure, with the shortest of time lines to get things right. In some cases employees, for instance, might be hired just for particular occasions.
Then some employees may arrive late, or not at all, and even when present are sometimes unsure where they are supposed to be working or what tasks they need to perform. It can also be tricky for those organising to easily "pull in" the appropriate person to cover for a non attendee.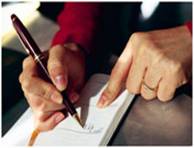 Duty Manager Eliminates Manual Processes
With VT Duty Manager which works with VisionTime 24 7 - all of that can be a thing of the past. VT Duty Manager is designed to control and record the allocation of tasks to employees – and ... to ensure the duties are made more visable through the use of wall mounted PC screens.VT Duty Manager allows you to:
Schedule employee to duties by locations, tasks and shifts
Work out, change and save the daily tasks and to match appropriate skills of employee to function required
Automatically match duties to clocking hours and then calculate for payroll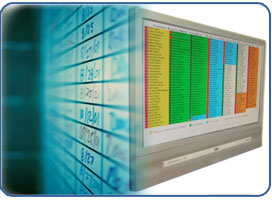 White-Board replaced by PC wall Screen
Each person's function might have skill requirements, so VT Duty Manager keeps a register of any type of skill. Maybe employees need to carry or hold items for their work. VT Duty Manager keeps a physical requirement list. VT Duty Manager will keep all of these skills and items - so that the right match is efficiently allocated to the job in question.
Regarding Clocking - there is a choice in how employees should clock in and out i.e. at a Time Terminal, PDA, a Mobile Phone, Touch Screen or PC.
Once each employee has arrived this can be seen at P.C. Wall Mounted Screens.
If area controllers are involved, then they are automatically notified of a non arrival within say 3 minutes of the designated starting time.
When employees arrive, they also can see their designated duties on a large screen e.g. each place or function or type of duty that they should be working at. This screen can be at some central location say the organiser's office. The effect is quite like viewing arrival/departures in an airport.
Even better the employee can even view his/her duty list from home before arrival. So can each area organizer – everyone is kept in the frame. A check can be kept on how many staff have been allocated to each area or function.
Employee can see his/her daily duty schedule

You will see on a time line where each employee is allocated for each hour of the day. If you need to see if they have arrived to an area, special readers can be used locally to scan the persons card or tag. VT Duty Manager also works out the hours the employee has worked – information that can be used for payment purposes.
Therefore, this product contains a mixture of health and safety, work planning, time recording and capturing of data for payroll. Also, if there is an emergency you can call up a real-time list of who is present and where they are posted and a special fast print out of staff present can be produced.