Clocking Solutions
Clock Machines
Proximity Card System
Finger Reading Terminal
Hand Reader Terminal
TP100 and TP200 Clock In Machine for all your Attendance Recording Needs
The unique TP100 and TP200 clock in machine have been designed to be truly "set and forget".They will accurately record employees' clocking in\out times on a weekly or monthly time card.They are fully automatic for all functions and time adjustments. Simply insert your card and a clear, accurate clocking is printed. These time recorders are the most high-tech and robust on the market, setting a new standard for the industry.
Tip:
Using "In" and "Out" racks either side of the clock is an excellent way of doing a fire roll call in an emergency, by unhooking the "In" rack
from the wall.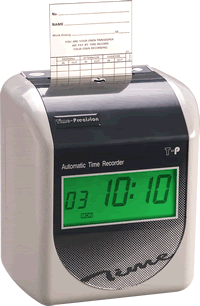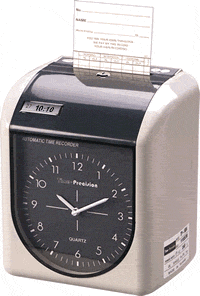 Sample Cards (Click to enlarge):
Features:
Simply plug in and start clocking straight from the box.
Easy to read, analog clock face with L.C.D time and date display on top of the unit. (Analogue)
Large, clear L.C.D time and date display. (Digital)
Tough ABS construction for robust use.
Anti-tamper, lockable case.
High quality, maintenance free, long life print head.
6 clockings per day per employee.
Accepts 17 popular styles of time card.
Automatic IN / OUT printing and spacing to stop over clocking(Fool proof).
Automatic hour adjustment for Summer and Winter time change.
Automatic month-end and leap year adjustment.
Built-in battery backup for time, date and memory auto-reset after power failure.
Selectable payroll cut-off date for weekly, monthly, semi-monthly and bi-weekly.
Optional full use battery backup, for clocking when power is off.
Selectable print formats: Date and time, day and time (12 or 24 hour format)
Standard 60 min or 1/100 (decimal) and 1/10 hour time printing.
Wall or table top mounting.
Extra Features on TP200 clock in machine:
Internal melody chime.
Output to external sounders for start, stop and break times.
Technical specifications:
Quartz time keeping for +/- 15 seconds per month
Power source: AC 110/220V 50/60 hz
Dimensions: (W x H x D) 190 x 210 x 130mm
Weight: 3kg
Power consumption: 4W (32W in peak operation).
Printing method: Shuttle dot matrix printer.
Operating conditions: Temperature 0 - 40 Degrees Celsius Humidity 40% - 90%
Click here to download Clock in Machine Brochure
InTime PC Linked Card or Fob Time & Attendance Solution
The InTime Lite system is a low cost yet powerfull time & attendance solution, designed to elimate the manual work from the payroll process, while allowing instant access to your employees' time and attendance information. This ensures complete workplace control savings both in time and money and helping to comply with health and safety rules by showing employees currently on-site.
Employees clock in and out by simply waving their card or key fob in front of the clocking terminal. Being non-contact, these have proven to be easier and much more reliable than swipe cards. They are not affected by dust, dirt or moisture, operating even in the harshest of environments. If employees leave, they can be re-used.
The time management software collects data from the clocking terminals and calulates the employees' hours and overtime according to your defined working patterns. Even if employees miss clockings for whatever reason, this data can be easily edited on-screen and automatically re-calculated. In addition holidays, sickness, training and customised absence codes can be recorded on an advanced, on screen, graphical leave planner, ideal for ensuring you don't have too many staff away at the same time!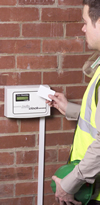 Some Benefits

Calculates employees' hours and overtime according to your working patterns, removing manual work from the payroll process.

On-screen viewing and editing of clocking times and hours worked.

Automatic highlighting of lateness, unauthorised absence and other anomalies.

Graphical booking and recording of holidays, sickness and user customised leave types.

Comprehensive reporting facilities with outputs to payroll packages such as Sage and spreadsheets such as Excel.
InTime Lite boxed time & attendance solution package -

Employees clock using non-contact proximity cards or key fobs, which will never wear out or mis-read like swipe cards.
Multiple connection options to the software include: Serial, TCP/IP (direct network connection), USB, Modem and WiFi (wireless networking).
Audible and visual display of clocking status shows: name, clocking number and in or out.


Fixed or flexible working times may be set up with easy to follow setup wizards.
Easily edited on screen data for missed clockings, lateness, holidays etc.
Output to a bell or siren etc to indicate start, stop and break times.
Full report suite including roll call report and payroll interface , including advanced leave and holiday recording.
MicroTime, Finger Reader Time and Attendance System for Industry and Office ...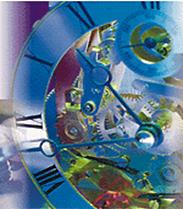 MicroTime is the complete Industrial Time and Attendance System brought to you by Flextime Limited. With over 30 years experience in Time & Attendance Software, Access Control and ID Cards. We believe that MicroTime offers the perfect Software Solution for Companies looking to capture Time & Attendance records, Access Control details, Rostering Plans, Job Costing Details and Department Costing Details. No more missed bookings because of forgotten or lost card, just put your finger on the sensor.Also save time & money be letting the system calculate the hours.
The Software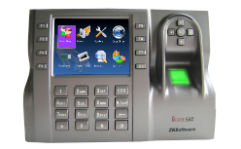 Windows based Time & Attendance for Industry and Office
Compatible with Windows XP/7 and Higher 32/64bit
Multi-user or Single User set up
Operates over Networks or Stand Alone
Access to Remote Sites and Offices via Dial up or TCP/IP
Links to all Payroll and HR softwares including Read/Write file transfers to Sage & Earnie
Ideal for Small or Large Companies

iFace Multi-biometric time, attendance and access control terminals. With a modern stylish design, it combines Facial, RFID and PIN recognition. Equipped with our latest facial identification algorithm, it captures the relative position, size and shape of userís eyes, nose, cheekbones and jaw features. These feature templates are used to match feature data when users register on the terminal, converting the captured features into value and comparing these to eliminate variance.
Time and Attendance System Hardware
State of the art Time & Access Recording Hardware designed by TMC
Biometric Hand Readers by Ingersoll Rand
Internal/External Bar Code Reader designed by Accu-Time
Finger Reader Terminal from ZK Technology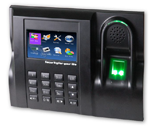 MicroTime Time and Attendance System Software Information
Timeclox Biometric, Clocking System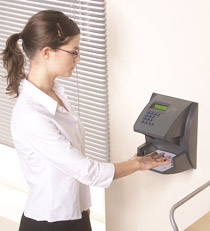 The "HandSwipe" clocking system positively identifies each employee when clocking, by scanning the unique size and shape of their hand……meaning no more false clockings or paying for time that employees are not present, saving your company thousands of pounds each and every year, whilst helping comply with heath and safety in fire situations by producing immediate and accurate fire roll call reports !
Once clocked in, this valuable clocking information is sent through to the PC software for automatic calculation, editing and analysis. Available at anytime, even from remote sites, this data allows you to stay in complete control of your employees' time and attendance at all times.
The tried and tested "hand reading" technology is not affected by the employees' hand being dirty, greasy, wet etc, all of which render fingerprint systems useless, or at best unreliable.
The "HandSwipe" system is unique, as it scans the hand from above, meaning the employees' hand has no contact with the actual reader, providing unsurpassed reliability whilst being extremely low maintenance.
In addition to the massive savings made by eliminating false employee clockings, there are large time and cost savings to be made in administration as the PC software produces reports previously prepared manually. These include: clocking times, hours worked, overtime, lateness, absence, holidays, sickness, fire roll call and much more !
Hardware

Scans employee's hand from above meaning dirt and dust on the hand will not cause mis-reads.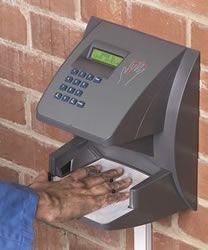 50, 100 or 500 employee capacity.

Robust ABS Construction.

PIN code and Hand recognition to prevent attendance fraud.

Large clear display for confirmation of employee clockings.

Quick and easy setup of new starters.

Wall or Desk mounting.

Multiple connection types: Serial, USB, TCP/IP, Modem, Radio and WIFI (Wireless networking).

Wall mounted fire roll call printer maybe linked to the "HandSwipe" terminal to produce an instant printout of employees currently on site.

Will operate sounders for start, stop and break times.
Software

Calculates all types of working hours and overtime, removing all manual calculations,saving time and money.

Standard or flexible working times for each day of the week may be setup per employee or groups,with easy to follow setup wizards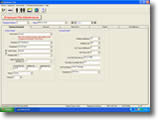 Automatic highlighting of anomalies - lateness, absence,missed clockings, exceeded breaks etc.

Allows lunch and break clockings or automatic deductions.

On screen editing of clocking data and automatic re-calculation of hours. (Audit log to show if clockings have been added or altered.

Advanced leave recording for holidays, sickness, training etc, with the ability to create customised leave types.

Extremely comprehensive reporting suite for detailed or summary reports for employees and departments,with working Time Directive reports.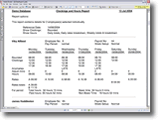 Extremely easy to setup and use Windows software for standalone and network systems. (Compatible with all Windows operating systems).

Export facility to Microsoft Excel and CSV output files to payroll link packages.

Built-in backup and restore facility for the database with an archive database for leavers.

Built-in personnel records including holidays taken and remaining, contact information, payroll, qualifications, disciplinary, trainimng and more!