InTime Pro Clock In System
InTimePro, Clock In System with multiple clocking options
The InTime Pro time and attendance clock in system has been designed to cater for virtually any requirement you may have. It allows for an unlimited number of employees and a wide range of different clocking terminals each with their own distinct features and advantages, these can be located at a single, or multiple sites all reporting back to a central software where time and attendance data can be edited, reports produced and information even imported directly into your payroll package.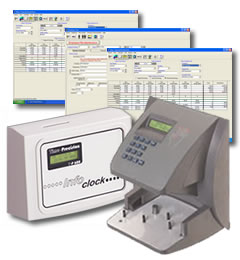 The powerful, yet user friendly windows software allows its users to quickly and effectively control all aspects of employees' clockings, hours, overtime, lateness, absence, sickness, holidays and personnel recording; by providing quick accurate and up to date information to the PC('s) from the clocking terminals in the work areas.
Many of Timeclox's clocking terminals can be linked directly to a wall mountedfire roll call printer, which, when triggered by the fire alarm or a roll call card, prints out who's on site, and how many are on site.
This tried and tested solution has proven benefit in reducing administration time and cost in the payroll generation process, with the added benefit of access to employee information at the touch of a button.
Software

Calculates all types of working hours and overtime, removing all manual calculations saving time and money.

Standard or flexible working times for each day of the week may be setup per employee or groups,with easy to follow setup wizards.

Automatic highlighting of anomalies - lateness, absence,missed clockings, exceeded breaks etc.

Allows lunch and break clockings or automatic deductions.

On screen editing of clocking data and automatic re-calculation of hours. (Audit log to show if clockings have been added or altered).

Advanced leave recording for holidays, sickness, training etc, with the ability to create customised leave types.

Extremely comprehensive reporting suite for detailed or summary reports for employees and departments,with working time regulations report.

Extremely easy to setup and use Windows software for standalone and network systems. (Compatible with all Windows operating systems).

Export facility to Microsoft Excel and CSV output files to payroll link packages.

Built in backup and restore facility for the database, with an archive database for leavers.
Hardware Terminal Options
Time-Precision TP600 - Multiple clocking options and external fire roll call printer.

Robust ABS case. Infrared Card, Swipe card, Proximity card / Tag.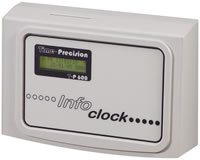 Clear 40 Character display for Name, clocking number and clocking direction.

Will output to an external wall / desk mounted fire roll call printer; prints all employees on site.

Output to bell / siren etc for start / stop and breaks.

Will store clockings even if the PC is off.

Full time date + memory battery backup in the eventof power failure.
TP 1000 Biometric Hand Recognition Clock In System

50, 100 or 500 employee capacity.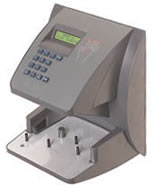 Robust ABS Construction.

PIN code and Hand recognition to prevent attendance fraud.

Large clear display for confirmation of employee clockings.

Scans employee hand from above meaning dirt and dust on the hand will not cause mis-reads.

Quick and easy to setup for new starters.

Wall or Desk mounting.

Multiple connection types.